I took a trip to the range to practice shooting pairs: two shots at the same target with the focus on managing the recoil such that I could get the second shot off quickly. I focused on grip and trigger control. I shot about 50 rounds with my 1911 then decided to get in some practice with my XDS. I shot 26 rounds and called it quits. Here are the results: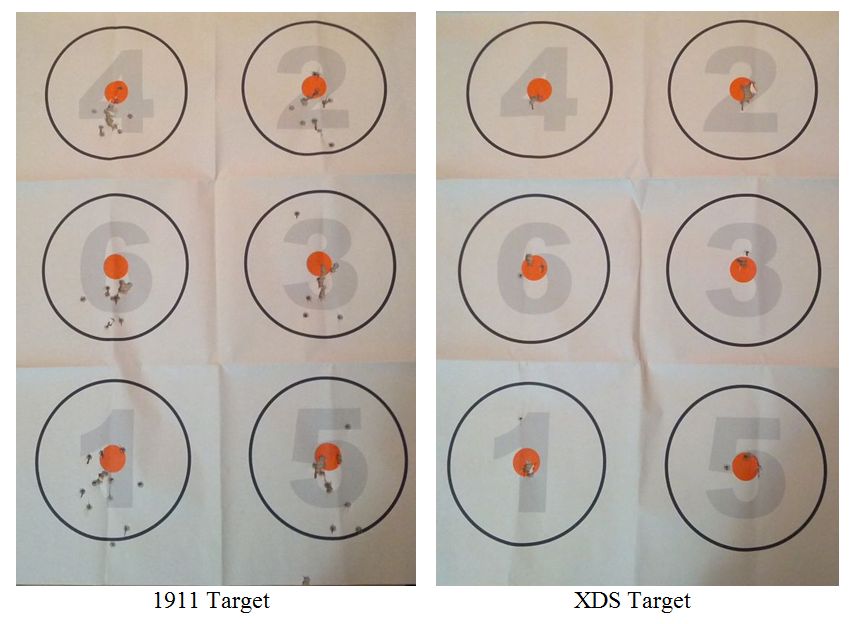 The shots from the 1911 are, for the most part, in the 6 inch circles. The shots from the XDS are significantly closer to the orange centers.
It doesn't make much sense because:
the 1911 has a longer site radius (5 inch barrel vs a 3.3 inch barrel)
the 1911 has a lighter trigger
The trigger on the XDS is much heavier. It was fighting it a bit and honestly stopped at 26 rounds because my trigger finger was so fatigued I didn't feel that additional shooting would do more than burn ammo.
Clearly I'm accurate with the XDS. As a friend said when I showed him the targets, "That gun just fits you." So I've opted to get a trigger job. Yes! My very first trigger job. I'm pretty excited.
I dropped it off with my gunsmith and I'm scheduled to pick it up Friday. Stay tuned for details. I have plans to shoot this gun in a bug match in the near future.