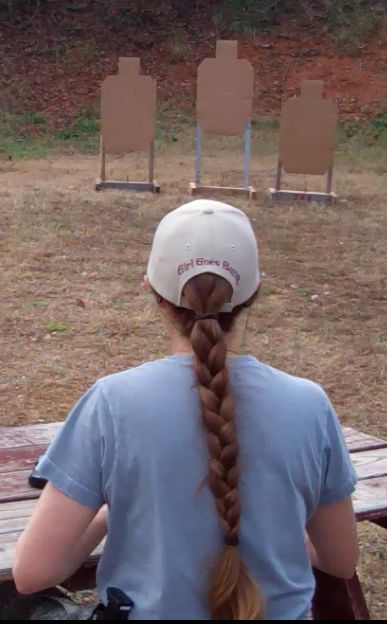 I've written about the BUG (Back Up Gun) matches at The Range in Oxford, NC that are offered on months with a 5th Sunday. The one I'm writing about in this post was on January 30, 2016.
I've made a habit of shooting these matches with my smallest guns, which are the guns I carry. In the past I've shot my Springfield XDS in 9mm and the Ruger LC9s Pro I picked up last year. Note the caliber. I stockpile 9mm as I made a decision a few years back to only buy 9mm handguns. I did purchase a .22lr prior to my first 9mm handgun and it's great for new shooters. The only other exception was the first gun I ever bought, a snub-nosed .38 Special revolver. A previous post mentioned the steps I'd taken to get it back into reliable shape.
The BUG Match at The Range in Oxford is still using 5 rounds as the maximum round count for BUG guns, so I bought a box of .38 special ammo on sale at Walmart (Perfecta at just under $15/box) and brought along the M&P Pro with a couple of boxes of 9mm ammo. I had the exact number of rounds needed for the BUG gun: a box of 50. That wasn't good planning, it was dumb luck. I'd recommend at least 60 rounds for your BUG Gun in case you need to do a reshoot on any stage.
If you plan to shoot a BUG match, you don't need holsters. You can use a gun rug or gun case to transport the gun from stage to stage. Just DO NOT take the gun out of the case until it's your turn to shoot and the Safety Officer asks you to load and make ready.
Shooters were placed in 3 squads and started on alternate stages (1, 2 and 5). My squad started on Stage 5. That turned out to be fortunate for me as the shoot house, the stage with the most movement, was Stage 4 and my last stage of the day. I learned a few things about the revolver on the other stages that were helpful to know before shooting that stage.
Stage 5 was two strings of 5 shots with the BUG only. Reloads are off the clock. So the first "aha!" moment was at "Load and Make Ready". A speed loader would sure come in handy for this. I picked up 2 of these a few weeks later.
I put 5 rounds of .38 Special in on pocket and 5 rounds in another pocket so I had the exact number of rounds and could load as fast as possible even if I was loading one by one.
My next "aha!" moment was when I pulled the trigger and there was no BANG! As hard as it is to hear with ear protection, I clearly heard my RO say "Pull it again!" (Thanks Frank!)  I had 5 shots for 5 targets. The next 4 trigger pulls did go bang so I put the sites on the 5th target and pulled a 6th time. This time it went bang. I had experienced my first malfunction drill with a revolver.
It's amazing how many thoughts can go through your head in a short period of time while you are engaged in a serious activity. But I did have a conversation with myself. "That's what you get for buying cheap ammo and never shooting it. So what's the harm in trying to shoot that first round again? None. Wow, since it was the first round, I know exactly where the malfunction was. I wonder what I'd do if it was a different round? Figure that out if you have to. Now pull the trigger!"
Stage 6 was also two strings of 5 rounds. Be careful what you ask for as I had another round fail to go bang and I had no idea which round it was. When I counted to 5 I still had one target left so I put the sites on the target, started counting from 1 again and pulled the trigger as fast as I could. If I got to 5 again I was going to stop and unload. It went bang on pull 3 so clearly a second firing pin strike was firing these rounds. I was pleased to see when we scored the targets that with the fast pull I actually hit the cardboard.
This revolver is small and the trigger is long and heavy. The sites barely peak over the top of the gun and I was serious about getting good hits, so except for the last target on stage 6, I pulled slow and steady. I pulled so slow that a friend encouraged me to try it single action. Basically, it hurt him to watch me shoot so slow. Really.
We grabbed our range bags and walked back to Stage 1. That presented a new challenge. Stage instructions: 5 shots at a single target weak hand only, reload off the clock, 5 shots strong hand only while retreating at the same target. Now the approach of shooting single action might not be viable? So I asked our RO Frank. He really didn't care how I cocked the hammer (use your hands, your toes…) as long as nothing was touching the gun but the designated hand when the trigger was pulled.
One of my shooting buddies said it was possible to cock the hammer with the same hand holding the gun but it was clear to me that trying that for the first time with a loaded gun was a very bad idea. So I cocked the gun with the non-shooting hand and shot single handed with the designated hand.
Here's what I learned:
I'm more accurate with my "weak" hand than my strong hand. But I use that hand for writing so that may be an advantage for me.
That gun really kicks. I was really glad to be done after 5 shots single handed and was convinced I'd find bruises in the web between my thumb and index finger later.
I can shoot faster (when trying to be accurate) taking the time to cock the hammer and pull the single action trigger.
The single action trigger has a lighter break than my 1911. Well, maybe not, but it is much lighter than I expected. My first round did hit the target but the trigger break surprised me. I learned very quickly not to put my finger anywhere on the single action trigger until I had the sites on the target and was ready to shoot.
If there is a "no shoot" positioned mid-body of the target, don't shoot the body. Make the head shot. I hit the no-shoot. Sigh.
Stage 2 was the first stage we shot that brought the primary gun into play. There were two stages total where we basically did a New York Reload.  You load the BUG and place it on a flat surface as directed by the Safety Officer. Ditto for the primary gun. When the buzzer sounds, you pick up the primary gun and shoot the designated course of fire. You keep shooting till you complete the course of fire for the primary gun. You move to the position of the BUG, put the primary gun down, pick up the BUG and shoot the rest of targets. Essentially the BUG is your reload as this all happens on the clock. It's not a skill you get to use in any other match.
The "aha!" moment came on this stage as soon as the beep went off to start shooting. When I picked up the 9mm M&P Pro, I fumbled the grip after shooting the tiny revolver in all the previous stages.  I wasn't used to switching back and forth.
On the stage, the course of fire for the primary gun included two poppers and two movers. I missed the first popper and had to take a 2nd shot at it, but got holes in both movers so I was happy with that portion of the stage. I emptied the primary swapped it for the BUG and shot 5 additional targets. All the targets shot with the BUG were down zero, so I was very happy about that. I honestly didn't think I'd be able to aim as well due to the difference in trigger, sights and grip.
Stage 3 was also a New York Reload style stage. We shot large steel targets just like those used for Steel Challenge. This was my first time shooting these type targets. You keep shooting till you hit each piece of steel once or you are out of rounds. It took me all 11 rounds in my primary gun to hit the 6 targets. That was pretty humbling but did inspire me to shoot my first Steel Challenge match in March. After the steel, I again switched from primary to BUG and shot 5 paper targets. This time I had zero points down and missed the non-threat. That was encouraging.
Stage 4 was in the shoot house and required movement down a hallway and shooting targets around walls (we never break the 180 degree line to avoid putting shooters behind us in danger). We shot two BUG strings, so: 5 targets, one shot each, reload off the clock, and again 5 targets, one shot each. The single action trigger on the revolver was super light and I was glad this stage was last so I'd had time to learn to work with that. I didn't want an accidental discharge into a wall. I think some of these required head shots and this was the only stage where the targets were obscured by walls initially.
We had good weather for January. I finally put the gun to use in a match that got me into shooting a few years back, and as always, learned a few new things.