For most of the last year I've shot one of my guns at least once a week. I bought a gold membership at PDHSC and while that was in effect, it was an easy decision to go to the range and shoot. I'd limit myself to 100 rounds most visits and I'd be there about an hour.For some months I had a shooting partner and we would discuss drills and ideas, but most of those trips were solo.
During that time I've come along way with my gun handling skills and safety awareness. I remember early on when I'd pick up a magazine and I'd have to puzzle out which direction it should face when I put it in the gun. That is now something I don't question.
I've shot competitions and I'm past the point of nerves and adrenaline. I'm reasonably competent but I'm not a competitive shooter. But that isn't improving.
With the expiration of my gold membership, I've decided to rethink how I'm spending my "gun time". Continuing to put lead downrange is fun, but I'm not convinced I'm structuring my range time to be productive.
Also, with the purchase of the XDS, I want to get comfortable with carrying a gun other than at the range and at a competition. That is what prompted the last post in carrying in the car — and I appreciate all the feedback on why I should not leave the gun in the car permanently.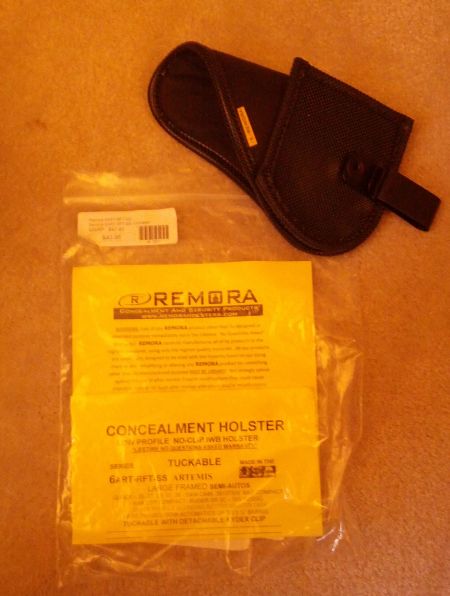 I bought a Remora Concealment Holster and intend to start carrying it around the house with the gun unloaded at first just to see how this works. It has a rigid opening and doesn't collapse when the gun is drawn, it has a flap to make it "tuckable", there is a clip but it can be removed (it snaps on), and it's a "sticky" holster. I tried it on in the store at 9Forward and it felt comfortable.
However, I've drawn from it and it's very different from the dropped, offset holsters I've been using for competition. It was at this point that I realized that I might want to switch my focus from "getting better at competition" to "getting better at self-defense". I'm not going to be able to conceal a dropped offset holster unless it's a very cold day and I have no plans to remove my coat, so I think I need to suck it up and start working with the equipment that is practical for everyday carry — even if it's not designed with the easy access of a competition holster.