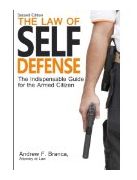 I saw this on Triangle Tactical today: LAW OF SELF DEFENSE SEMINAR.
I bought the book and I've been listening to his podcasts. Every gun blog I read endorses Andrew Blanca as current and informative. I'm going.
Go to the post at Triangle Tactical to get their special code for a $10 discount. Register before April 3rd, and assuming the seminar isn't full, you can attend for $89.
I have the book so it's time for a re-read. I think it would be best to come with fresh knowledge so I can pick up the next level of detail from the seminar.
I also see this as an opportunity to connect with others locally who are interested in this subject including local lawyers.