I've had several passions in my life. They have a limited lifespan of about 8 years and all have faded to stories that start with "I used to…". It's been half a decade or more since I have felt so constantly excited, intimidated, and challenged by a new pursuit. This year I decided to learn to shoot. This blog is the story of my journey.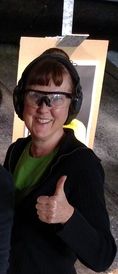 I'm over 50 and female. Sadie is not my legal name. I'm single and have been most of my adult life. I'm blessed with past partners and friends that are willing to share their knowledge with me. I choose to share my story in hopes that it supplies a bit of inspiration for others young or old, male or female.
I have been keeping notes since my first class last February and intended to write in chronological order. For a month that didn't happen. So I decided to just start writing about where I am now and work in the earlier experiences over time. It will be interesting to see how that works out.
–Sadie
September 2012 / October 2012
Updated: March 2014: I've started tracking my certifications and volunteer events here.