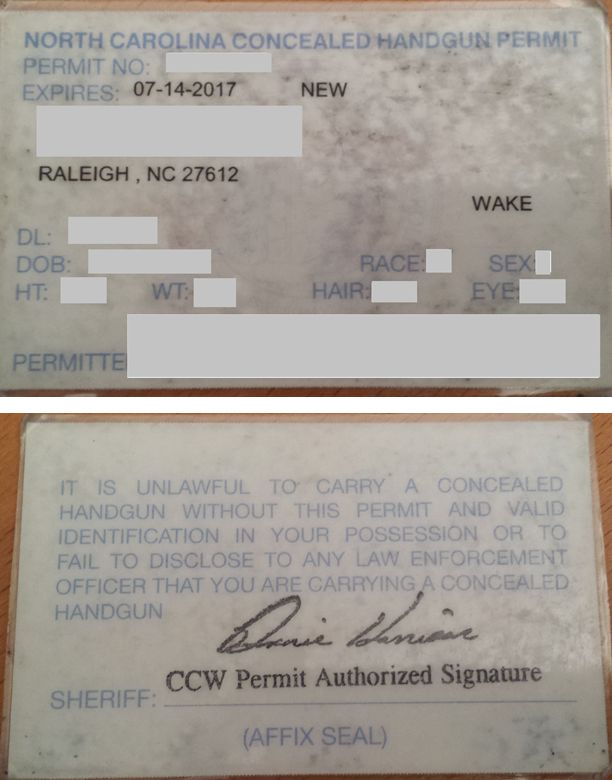 I purchased a pistol a few weeks ago and at the time the sales person pointed out that my Concealed Handgun Permit would expire in July. It sure doesn't feel like it's been 5 years since it was originally issued. Here's a link to the blog post on getting the new permit: Getting a Concealed Handgun Permit in Wake County, NC
It was February but I decided I had some free time so I'd take care of it.
The actual name attached to this permit can be confusing. The front says "CONCEALED HANDGUN PERMIT" while the back says "CCW Permit". CCW typically stands for "concealed carry weapon". I'm not sure why they use different terminology on the front and back. Most folks I know call this a "CCW Permit".
I found this page that appeared to have the link to a renewal: Wake County Sheriff Office Concealed Handgun Permit Application. I filled out the form, paid by credit card ($81.59 with convenience fees) and booked an appointment to drop off my forms the following week.
A few days later I had a dentist appointment. I'm out to my dentist and my chiropractor about shooting IDPA and having my CCW and I mentioned I'd be downtown the following week. My dentist said there was a restriction on how early you could renew. I did further research and found a web page here that mentioned "no more than 90 days prior to the expiration date". 
I was about 6 week too early so I called the contact number promptly at 9am the next morning and asked if I should reschedule the appointment within the 90 day window. The person I spoke with said they were fine if you started 4-6 months in advance. So don't believe everything you read on the internet.
My appointment was at 1 pm on March 1, 2017. I got lucky with parking and arrived at 12:30 pm. They took me right away. I was asked to sign and date 2 pages then address an envelope to myself. Once approved, they would mail my permit in that envelope. I was done in about 15 minutes. Parking cost was $1.
Of note: I was told that if my current permit expired before receiving the renewed permit, it was OK to continue to carry, however, I could not use the expired permit to purchase any firearms.
I've done my part ion the renewal process. I'll update this when my permit arrives to document how long the process it taking at this time.