Part 1 of the article was published here:
Burglary: Lessons Learned Part 1: The police & initial observations
When filing an insurance claim, be your own advocate 
I wasn't impressed with the agent that handled my insurance claim. I asked several times for an explanation of the coverage and the claim process. I got vague answers. So I pulled out my policy and started reading. It's important to know if you are covered for RCV or ACV.. Generally speaking, the replacement cash value (RCV) refers to the amount an entity would pay to replace an asset. The actual cash value (ACV), on the other hand, is the cost to replace an item, less depreciation and is a lower amount. My policy stated RCV. I hate to admit that I didn't know what type of coverage I had until I needed to make a claim.
I made an extensive list of what was taken. When I delivered that to the agent he told me that he'd give me a check for the ACV amount and as I replaced items and provided receipts for items purchased, they would refund the difference. I called his bluff and told him that if he wanted me to send him 100+ receipts over the course of the upcoming months, a few at a time, I could certainly do that. I asked how, exactly, they would determine the ACV amount? After pushing a bit more, the agent told me they typically wait until a few items are replaced, to ensure the money is being used for actual replacement, then they send a check fort he balance of  the claim. Since I pushed, He said he'd send me a check for the entire amount of the claim because "he'd never seen a claim submitted that had as much detail" as I provided.It pays to be thorough.
Online shopping provides proof of purchase for past years
I took up shooting in 2012. Most online sellers will provide older invoices if you make the request. I reached out to Freedom Munnitions about ammo purchases as I couldn't retrieve older invoices from their website due to a change in their software.They were quick to provide the receipt requested.
For the vast majority of the non-gun items in my claim, I just started looking through my purchase history on Amazon and it was a nice reminder of what I'd bought and what to check to see if it was gone. It was easy to do this on eBay as well. For specialty items such as holsters bought from local vendors, I had email confirmation of purchases with prices.
As for the guns and magazines stolen? I gave a list of the items to a sales associate at TSA and asked for a quote after explaining why. They were very helpful and that saved much time in gathering information on current costs.
I tossed all of this in an EXCEL spreadsheet with links to the source of purchase proof if I had that and a link to purchase a replacement and the cost.
The 2nd benefit to this approach was once I had a check from the insurance company, I was able to shop quickly to make replacements.
The good and the bad: new purchase options! Items no longer available 🙁
When you start to replace stolen items, you'll find some things just are no longer available. I had a Kershaw knife that I really liked. It had been discontinued. I found a "blemished' version for sale on eBay for more than I paid originally. I bought it anyway. The spring wasn't working right but I lucked out as the local dealer offered to fix that for me at no charge since she no longer had the knife in stock and I had purchased the original from her. I really appreciated what she did for me. After such a bad experience, this was a bright spot in the rebuilding process.
The fun began when I found that my UpLula, which before only came in black, now was available in a variety of colors! I opted for bright yellow to make it easier to find in my range bag. That was also a positive discovery during this experience.
When shopping for guns, call and compare prices. If you are willing to buy used, ask what is in stock. My #1 priority to replace was my competition gun. When I started calling shops it seemed that every shop I called had a lower price. I found a stellar deal on my first M&P Pro ($425 used). I didn't find as low a price as I originally paid, but I didn't have to drive nearly as far this time and I still found a reasonable deal on a replacement pistol.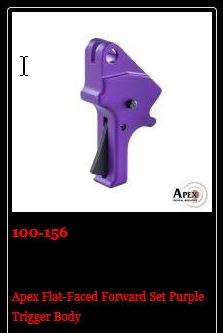 The Apex Trigger I put in my last M&P Pro was now available in purple! I wasn't interested in a red trigger, because it's the color of blood and I just don't want that reminder around my guns. But I was one of the first to buy the purple! I saw it "back ordered" on the Brownell's site and called Apex to see how long it would be until they shipped. The woman I spoke too said it was so new they hadn't yet posted it on their own site but they'd be shipping within two weeks. So another upside to all this trauma, is the really cool looking purple trigger in my replacement M&P Pro. I'll provide before & after pictures in the next blog post.
Other tasks: Replace all the lost Range Cards
I kept my range cards in my Range bag. It was a nice set of memories. Anytime I visited a new range and need to get a card to shoot at the location, it went in the bag. They were all taken, of course. So I made visits to the Wake County Range and to TSA to get replacements. Both locations made the process fairly easy.
The emotional cost
I'm still struggling with the fact that being a firearms enthusiast made me a target for thieves. It tarnished the feeling of empowerment with a dose of victimization. But mostly I hate the fact that this experience made me question that someone I call friend did this to me. The police asked repeatedly if I suspected who did this? I had no idea, but it made me question all of my friendships, if briefly. They asked who knew I was out of town? All my co-workers as well as several friends.
I'll never know the who or the why. I calmed down and made changes to my home security. But I really do resent the fact that someone made me doubt those I care for most.