I bought a S&W 1911 in 9mm last October. I took it to my gunsmith to have the grips replaced. It came with RoCo wood grips in a medium width. I have very small hands so I selected a set of Halpern Ultra Slim Titanium grips. They were basically the same color as the gun so I considered that a bonus. See the gun with the new grips here.
As I'm learning to expect, I ran into a few issues. The bushings should have been attached to the frame of the gun. Two of the 4 were… the other two were attached to the wooden grips.
My gunsmith advised me to send them back to S&W and ask them to remove the bushings from the original grips. If I want to sell the gun at some point, it is likely the next owner will have larger hands and will want to use these grips. I called S&W on November 19, 2012 and was told they would send me a return label and shipping instructions. The problem would be addressed. Why did I call? Because the website was broken. Really.
I received the return label Nov 24th, the day after Thanksgiving. I mailed the grips to S&W on November 29th, 2012. I received a set of replacement grips on February 15th, 2013. It's a very good thing I wasn't in a hurry for these, eh? They are missing the bushings and screws I returned with the original grips. So after almost 3 months from when I contacted them concerning this defect, I find I will be contacting them again. I sent email tonight requesting the missing parts. I'll post an update if they ever show up.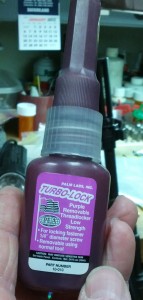 As for the ultra slim grips, my gunsmith had to cut out a place on the back of one side for the safety to swing up and down. He had to use special slim grip bushings as the new grips are much thinner than the original grips. I lost a screw in the first month. Was at the range, looked down and no screw in one of the holes. My gun smith gave me another (he is good to me) and then advised I invest in something like the "Turbo-Lock" pictured. Each time I clean that gun, threadlocker needs to be applied to the screws to ensure they don't vibrate out.
S&W is teaching me patience. My gunsmith is teaching me to be self-sufficient. I'm not impressed with S&W and I'm learning to value my gunsmith.