I shot a match last Monday night (July 20th, 2015). I had put about 120 rounds through the 1911 since I got it back from S&W and it had worked flawlessly, so I decided to shoot it again in a match. I switched from a USP Compact (a DA/SA gun) to a 1911 (a SAO gun). In more specific terms:
DA/SA is a double action trigger pull followed by single action trigger pull. The first trigger pull has to both cock and release the hammer. When the gun fires, the action of the slide cocks the hammer for subsequent shots. So the first pull is long and heavy. Subsequent pulls are light and short in comparison.
SAO shoots in single action only. My 1911 has a factory trigger but it's light at about 3.25 pounds.
To increase my speed with the USP Compact I worked to prep the trigger as I was extending the gun for the first shot. When I shot the first stage of the match I had an AD (accidental discharge). I pulled the trigger after the gun was out of the holster and pointed down range but well before I intended to pull the trigger. The habits built with the H&K were not transferable to the 1911. Here are stills of the first accidental shot and the first intended shot: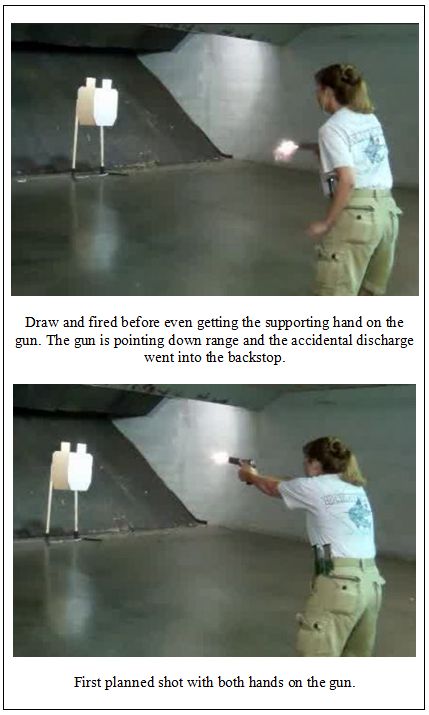 The RSO noted that at matches with more structured rules I would have been disqualified. I would not have argued with that. Since the shot went into the backstop they did let me continue to shoot. The rest of my match went well.
This was a huge wake up call to focus even more on my draw and where my trigger finger is at all times. To pull the still of the AD, I found a way to step through the video in slow motion. I then saw all the extraneous movement in my draw and alignment for the first shot. That was another eye opener. When I watch it at full speed I don't really see all the small movements, but in slow motion it becomes very clear.
I've included the video of the match. I'll be shooting these stages again next Wednesday night. The Wake County Range will be closed for most of August for cleaning and renovation. The next Monday match will be in September.